Hurray! Bravo! Congrats! Really Cool! You guys Did It! Way to go! Great Work !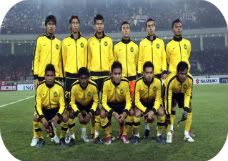 the truly hero
The news spread fast all over the country
.
Congratulations guys . I knew the record would stand until it was broken
.thats
all i can say . it was superb ! fab ! amazing ! totally amazing ! just imagine , Malaysia football team won the AFF SUZUKI CUP for the first time after Thailand , Singapore and Vietnam . it was great right ? okay . itulah dia player2 muda bola sepak Malaysia
. keep it up !
by the way , a thing that we should proud of is , safee sali ,a malaysian , just got the best scorer award for aff suzuki . hee . (: go go selangor ! (:
safee sali (:

well well . a new phenomenon occured when the best goal keeper for this year who also played for Kelantan save the penalty ! haha. whoelse ? KHAIRUL FAHMI CHE MAT . woot woot.tapi dah berpunya oke.jaga2 :P he's sooo cool.seriously.wat rileks je even kena laseerrr pon kan ? haha
KFCM (:


huhu.hopefully diorg ni tadela jadi mcm player sezaman dengan indraputra dulu,kejap naik kejap turun.biar la naikkk je . and focus for the next game or match.jangan bangga sangat menang cup ni oke.cewahh.aku tulis semangat2 ni mcm diorg baca je kann.haha.btw,even before this aku tengok epl je,now,i've started to love Malaysia team moreee lahh ! i love malaysia (:
here we go babehh !!