Hai peeps !
Peace be upon you guys (:
Okay.I felt so sad the whole day because my baby boo , Snowy/Baby/Boyot/Buyat/Budak Nab not really well these few days . I dont know why . memang pening tengok dia tanak makan,tak minum,tak melabur as usually . And the worst thing is , telinga baby sebelah tak berapa okay.tak tegak macam selalu since yesterday . And now , dia demam .Badan dia panas . Aaahh.Pity you baby.
So,with with the helped of mama , i asked her to accompany me bawak baby jumpa veterinar.Pegi klinik.



im so worried bout it la. haish . and here is the video.a short one because tak sempat nak record lame2 okay . and sound tak clear langsung la. ):
short vid


okay . so ,doc pon check la si baby ni . he said , one of telinga baby kemungkinan patah . OMG ! pity you baby )': . kesiannnn nyaa sayang saya tu . then , doc cakap , baby demam . body temperature dia pon tinggi . so , doc pon bagila ubat for its ear . and antibiotic . here is the pic waktu baby kena rawat.pity you dear. )';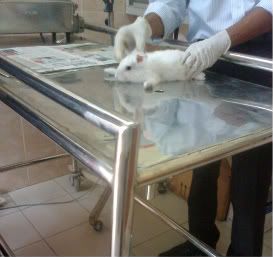 then,after dah dirawat pon,i mean,after got the two injections,barulah baby macam okay sikit.even sakitkan sayang ? sian dia. )': . then i make the payment . barulahh balik.sian baby.kesian sangat.dia sakit.and its ear maybe patah.kena tunggu after a week,bawak dia jumpa doc balik.to make sure betul ke tak telinga dia patah . )':
I LOVE YOU BABY (':
Love,
Izyan Masri (: